I just thought I would post this to give some of you fellow snuffers something to watch and read. A little piece of snuff history on the Helme tobacco co. in New Jersey that was built in 1883 and had the town named after the mill and owner. The town became Helmetta which is still thriving today. The mill made Navy, Lorillard, Railroad Mills and Helme snuff along with some popular chewing tobacco's. I'm mainly posting this because the old mill is being destroyed to make room for houses and I wanted to share a little of its history before its lost.
The link is for a video of the mill from the outside as it sat before it was taken down. You can watch before or after reading the following article.
Helme Snuff Mill Video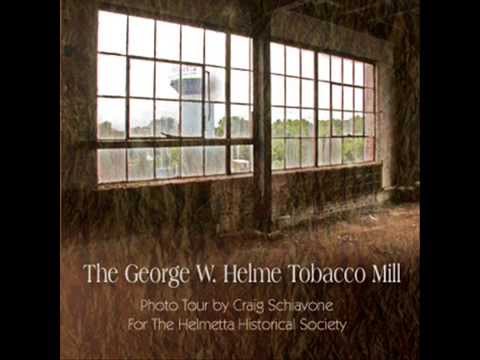 The Helme Tobacco company was founded as the Railroad Mills Snuff Mill in 1866 by a pair of brothers from New Jersey. After a few years, when George Washington Helme (1822-1893) purchased his brother's share, it was renamed. In the 1880s, Helme purchased land in Middlesex county between Spotswood and Jamesburg, and built 105 homes for his workers. In 1888 the community was granted status as a borough and Helme named it after his daughter, Oliva Antoinette, who was nicknamed Etta.
In the 1930s there were 400 Helme employees and the firm was one of the world's largest producers of snuff. At his death, Helme was reported as having been the second wealthiest man in New Jersey.
Over the years, some of Helme's products gained tremendous popularity, including such favorites as Silver Creek and Redwood Moist Snuff, Lancaster, Chattanooga Chew and Mail Pouch Chewing Tobacco, and Navy, Lorillard, and Railroad Mills Dry Snuff.
Today Helme is a brand owned by Swisher International. Swisher's history with tobacco dates to 1861 when a small cigar manufacturing company was acquired in payment of a debt. It went on to become one of the world's largest cigar producers, with such powerhouse brands as King Edward and Swisher Sweets.
In 1993 Swisher moved all of the Helme operation to the Wheeling plant and closed the Helme Snuff Mill complex, leaving behind 16 buildings on 32 acres, on Helmetta's Main street.
If you want to know more about George W. Helme check out this
George W. Helme